**IMPORTANT** In October 2015 Comcast is doing away with all Personal Web Pages and deleting all content. Please stay tuned and check here before October hopefully for a new link for my all my sites.
click for new temp info page
John H./A. Pennyworth
The Green Hornet and Kato's Crime fighting attire and equipment as seen on the TV show
"The Green Hornet"
starring Van Williams and Bruce Lee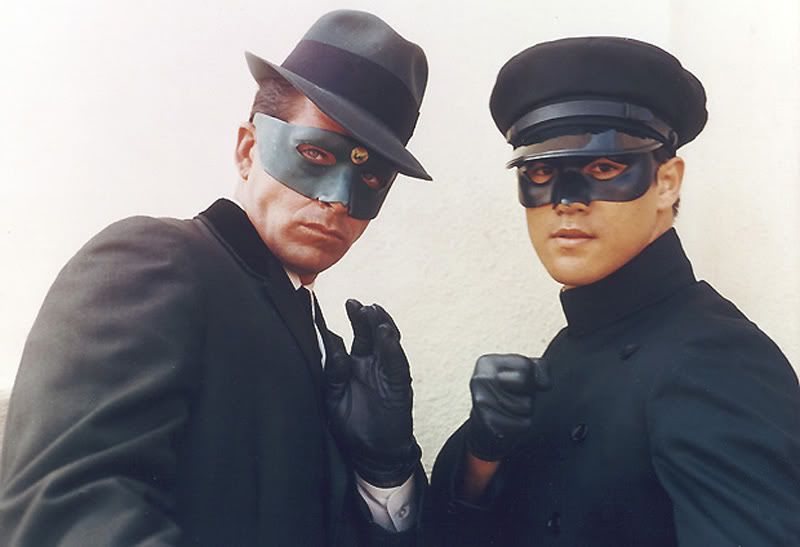 These pages are for reference for anyone who is interested in creating a Green Hornet/Kato costume, an accurate model/action figure or anyone in general who is a fan of the show!
One of the main problems other than finding the correct style of GH hat, GH mask and GH jacket is that they all must be approximately the same shade of green, I think this has been referred to as "midnight green". While the 3 components of the originals were not exactly the same color, obvious mismatching of the colors/shades does not look right! This will be a problem when buying from different sources/vendors! These pictures are saved from various sources, many have different shading due to photographic processes/lighting, some pre-show publicity shots but I think what we are striving for is what was shown in the TV episodes. (p.s. there were at least 2 complete sets of GH/Kato costumes as seen in the episode "Alias The Scarf")

Links below for the Mask and Weapons,Gadgets,Props page!
                             



Green Hornet attire

           
                 
--Fedora/trilby hat..... rolled edge around flexible brim, width of the hat band (very important for the look), correct band bow, full front to back dented crown, 2 front dimples ,some vintage "Dobbs FIFTH AVENUE (5th Avenue) NEW YORK" hats look correct
Other Hat options


Baron Hats claims to have made the original and may have one in their "Hat Museum", still awaiting pictures from them.

HenryTheHatterDetroit.com's Stefeno hat (needs a wider hat band)

cyproductions.com has a custom fitted hat, click for site, New and Improved, screen accurate look (plus other Green Hornet items/props)

GladHatter.com for another hat site (again not quite accurate)
TheFedoraStore.com has a Dobbs Dayton (may be a bit high)
--Hornet coat/jacket..... "Chesterfield" style topcoat (has the velvet or darkened collar)(also search for Duster, topcoat, overcoat, opera coat, with a notched collar), fly front (no exposed buttons), horizontal flapped lower pockets, 2 buttons on sleeves. The material is said to be wool, however I don't know how heavy it was! p.s. He also wears a sportcoat underneath his topcoat.
--Horizontally textured tie
--White shirt, standard collar not a button down
--Looks like cuffed pants, same color as jacket, however some shots show them a different shade, and also maybe in black.                  
--Of course mask, white scarf, black leather gloves-with 3 longitudinal lines on back of hand area, loafer shoes, Hornet Sting, Hornet Gun, transmitter gold pocket watch and other extras as needed!!
                       
   
click for larger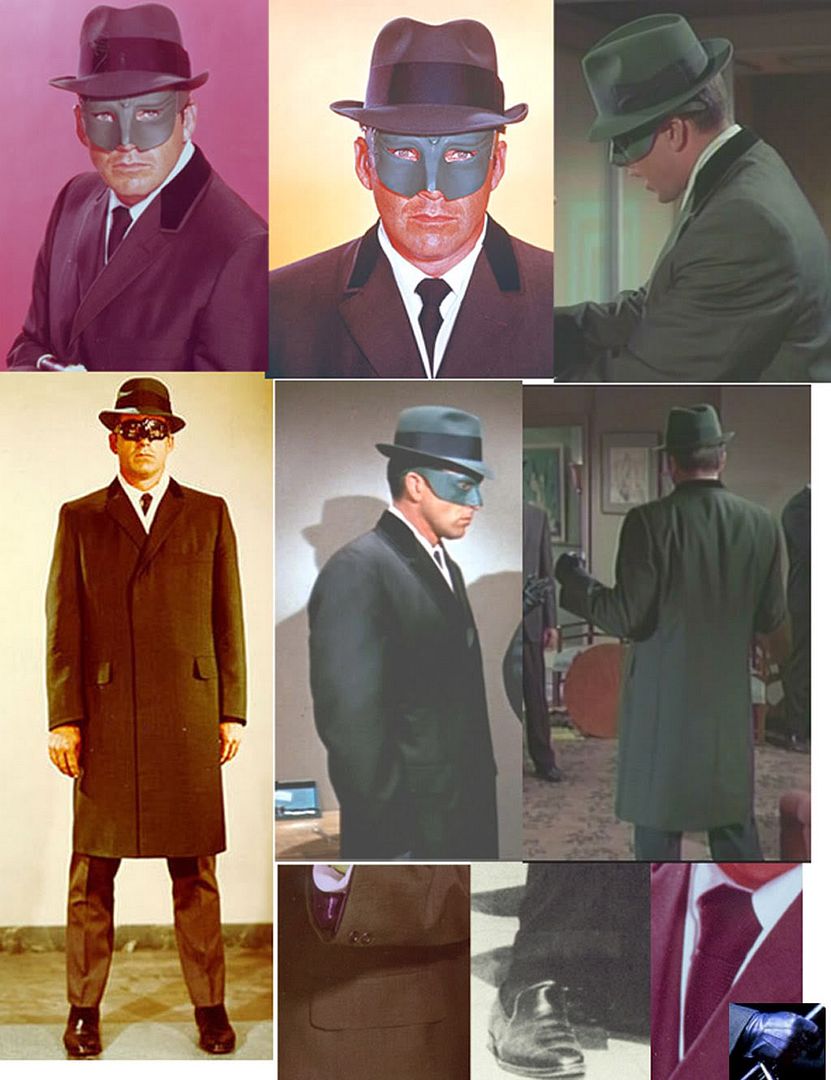 and this behind the scenes shot shows Van without his coat wearing suspenders.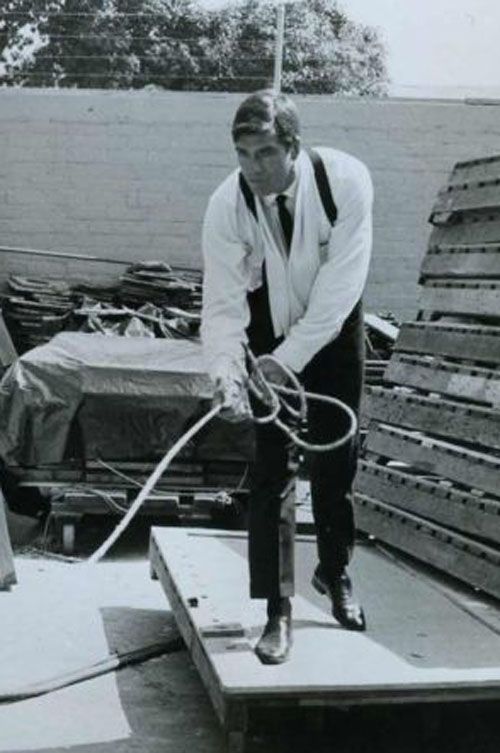 Online sites for coat/jacket

CYProductions has a nice example of the GH Chesterfield coat....click for site
This site, www.the-magic-wardrobe.com, (click for link) will custom make a "Chesterfield" jacket, correct style, correct color, quoted estimated price of $750 ..See below for their Kato Uniform link!
World Of Elegance.com click picture for a site with a very expensive correct style coat, however not in green!

-Sportsmansguide.com has an East German Military Raincoat for $7.97 that with a little modification passes for a Hornet topcoat. It doesn't have flap pockets but is long in length and has the button fly flap front!

Brooks Brothers and Saks Fifth Avenue make a Chesterfield style topcoat, usually in black or gray.

click for larger

For a cheaper costume alternative you can always search for a green trench, rain coat, London Fog "Maincoat", have to search for correct looking style, (I've seen them w/ dark collar and fly front), covert coat or maybe a white "lab coat" (find the correct length, dye and modify) ...see the link below for some fan costume pictures!
           


Kato attire


--Old style chauffers hat, top of hat in front is smooth not ribbed or creased.
--10 button black jacket, angled/tapered not a vertical closure , horizontal flapped  lower pockets, 2 button on sleeves, high collar. This appears to be a vintage 1930's era chauffers uniform/jacket.
--Some type of white shirt underneath, seen peeking out of top of collar
--Tie-up shoes, black pants, no cuffs, mask, black leather gloves-plain back,(no detail), throwing darts, nunchucks, and other extras as needed!!

This hat was offered up for auction by Profiles In History on June 11, 2010. It sold for $27,500

larger
The auction description:
694. Bruce Lee signature "Kato" cap from The Green Hornet. (ABC-TV, 1966-1967) Original black chauffeur cap worn by Bruce Lee in his iconic role as "Kato", trusty sidekick to Van Williams who played the Green Hornet. Manufactured by Sportster Caps of black wool with orange silk lining, patent leather brim and black leather band. It exhibits small moth holes on the top; otherwise remains in remarkable condition. One of the most iconic and endearing wardrobe items from Lee's short career. From the Bruce Lee Collection sale, 1993
This site, www.the-magic-wardrobe.com, has complete costume (also ebay sales starts at $899 seller magic-wardrobe), also selling as seperates, the custom fitted jacket is $399-450. Emails answered by Mark who was very helpful and was receptive into making several corrections to their current jacket to a more accurate one!
www.costume.com Chauffeur Uniform made to order about $250 in grey or black
For a cheaper alternative try searching for a chef's coat,chef's jacket w/ collar, they are close!!  However I have been unable to find a chef's coat one with the exact collar style!

an example website click for a chefs coat available in black twill/gabardine material $60/$115 and can customized with black buttons, but there are many sites out with different versions and pricing. If you find a better example please let me know.

Click here for some Green Hornet fans costume pictures found on the web
..and here for a vintage Ben Cooper Halloween costume
The above and following is just my opinion/observance on what I have seen in pictures and on screen and should not be taken as 100% correct or accurate!  I have never seen any actual items. Please if anyone has anything else to contribute, corrections or additions please email me johnhaig@hotmail.com
--John Haig aka "A. Pennyworth" aka "A.P."

Please do not reproduce, repost, or upload any part of this page or the following without my permission first, Please ask!

Part 2-The Masks!
Part 3-The weapons/gadgets/props!