Please Bookmark This Page And Return Often!
http://www.eddyarnold.com
The Official Eddy Arnold Fan Website-Welcome To My World
Website Updated November 19, 2014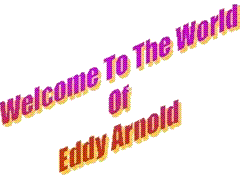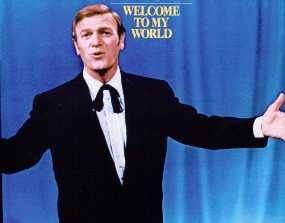 MAY 15, 1918 - MAY 8, 2008
ANNOUNCEMENT
Don Stewart has been an integral part of this website since its inception.
On Monday, November 17, 2014, Don was informed that his youngest son, Tom, age 54, died in his sleep from heart disease.
Don and all his loved ones are in our thoughts and prayers. Bill Comer
WARNING TO VISITORS OF THIS WEBSITE!
EXPOSURE TO EDDY ARNOLD'S MUSIC MAY BECOME ADDICTIVE.
PROCEED AT YOUR OWN RISK!
THIS

NONPROFIT

WEBSITE EXISTS SO THAT

EDDY ARNOLD

, GUITARIST, SINGER, PERFORMER, ENTERTAINER, SONG WRITER, TV HOST, ACTOR, ASTUTE BUSINESSMAN AND A GENTLEMAN

WILL NEVER BE FORGOTTEN!
---
Eddy Arnold is the ONLY singer to place songs on the BILLBOARD CHARTS in seven different decades!
1940s/1950s/1960s/1970s/1980s/1990s/2000s
About the Webmaster
BILL COMER has been a fan of Eddy Arnold since childhood.
---
I pledge allegiance to the flag of the United States of America and to the Republic for which it stands, one Nation, under God, indivisible, with liberty and justice for all.
GOD BLESS AMERICA / GOD BLESS OUR MILITARY AND VETERANS
"Freedom is not free, the price is great!"
WELCOME TO THE WORLD OF EDDY ARNOLD
THIS WEBSITE HAS TWO PARTS OR CHAPTERS.
YOU ARE NOW ON PART 1
IF TODAY IS YOUR BIRTHDAY
CLICK HERE
---
ALLOW TIME FOR THE SONGS TO LOAD
SONG: Take My Hand for Awhile
Posted for Mark Halstead (one of his favorite songs)
SONG: Nothing But Time
Posted by Bill Comer (one of my favorite songs)
---
EDDY SINGS
(1) 45 RCA RPM 47-8445 9/03/63 (2) Converted From m4a to mp3 (3) m4a recording (MPEG 4)
If you are unable to play song number (3), please let me know via the Guest Book. Tkanks...Bill Comer
---
Fans: A Listing of Sad Songs Recorded by Eddy is Now Being Compiled

.
Larry Risko comments "...it could be that I just love these songs because of Eddy's interpretation and that because I so love to listen to them the "sadness" eludes me."
While listening to the selected songs below keep in mind the words Larry stated so eloquently.
Sad Songs Previously Posted From The Following groups are excluded:
(1) World (2) Mother (3) Lonely (4) Love.
---
PLAY

SONGS

BY CLICKING ON THE FOLLOWING LINK:
WWW.EDDY-ARNOLD.COM
THIS WILL PLACE YOU ON THE WEBSITE "EDDY ARNOLD 2.0."
Then scroll down to and click on "EDDY ARNOLLD'S MUSIC."
---
Reviews of Eddy Arnold Albums
To Play Videos and Radio Shows Click on the Following Link:
WWW.EDDY-ARNOLD.COM
POSTINGS FROM EDDY ARNOLD FANS
Some long-forgotten reporter quoted Eddy Arnold's aspirations decades ago in a newspaper that's now tattered and yellowed with time: "When I finally put my guitar in the case the last time, I want to be remembered just as a singer, not as a country singer or pops singer---just a singer." His journey over many years and musical styles tells the story. Eddy Arnold accomplished his goal.
(Michael Streissguth's biography/ Eddy Arnold: Pioneer Of The Nashville Sound). (Available in both Hardback and Paperback covers)
Hardback
Paperback
REPORT ON GUEST BOOK ACTIVITY
Date: November 19, 2014
Time: 5:05 PM
Total Visitors to this Website 141,112*
Total visitors to Guest Book 13,076*
Total messages in Guest Book 1,213*
* Includes repeat visitors
---
UPDATED November 09, 2014
(The following narrative is a story of a young boy who loved his Family, his God, his Church and Eddy Arnold)
The authors, Jan and Anthony Howse, have written a book about the above subject which is available at Barnes & Noble and other local book stores. The book is also available online. Check with Arthur House Publishers, Amazon and other online stores. The name of the book is "God Does No Wrong."
Anthony & Jan Howse introduces their newly released book Titled: "God Does No Wrong."
This book takes the reader through the true Life altering events a Young Christian Wife experienced. Death has already taken her husband and son Testing the very core Foundation of her Faith. What will the Outcome be as she must understand "God Does No Wrong."
---
Fans: R. Shannon Pollard, grandson of the late Eddy Arnold, and CEO of Plowboy Records announces
the issue of the following album:
To view video of Eddy Arnold's tribute CD titled You "Don't Know Me-Rediscovering Eddy Arnold" by various artists and issued by Plowboy Records visit Shannon's websites by clicking the following links:
To visit the Facebook Official Eddy Arnold Website copy and paste the following link on the URL line of your browser
https://www.facebook.com/pages/Official-Eddy-Arnold-Site/162885280408
16th ANNIVERSARY OF THIS WEBSITE
---
Gabriel Comer EDDY ARNOLD'S YOUNGEST FAN
Madison Gott A Young Lady Fan of Eddy Arnold
Leo and Pierrette Beaulieu-Tribute to Eddy Arnold
Hello Fans: All posted songs now play.
If you are unable to play any audio or video file, or have difficulty with any links, please inform me via the Guest Book so I can repair the problem promptly. Visit the site frequently as I will continue adding new items for your enjoyment. Bill Comer, Webmaster
---
If TODAY is your BIRTHDAY please click on the following link:
CLICK HERE
---
Eddy's Lonely And Lonesome Songs
(Closed to Update)
Posted for Don Stewart
Eddy's Social Security Radio Shows
New Eddy Arnold Tribute Album
by Andy Lee Lang of Vienna, Austria
Sally, JoAnn and Eddy c1946 Eddy
---
If you tell the truth, you don't have to remember anything. Mark Twain
---
Ten Songs That Touched My Heart By Eddy Arnold
---
ROBERTA EDGING, EDDY ARNOLD'S SECRETARY FOR OVER 40 YEARS, PASSED AWAY THE EVENING OF JANUARY 1, 2013.
SHE WILL BE MISSED BY HER FAMILY, THE ARNOLD FAMILY AND THE FANS OF EDDY.
GOD BLESS THIS LOVELY LADY!
Click the following link for additional details provided by R. Shannon Pollard
http://www.eddyarnoldmusic.com/community/2013/01/rest-in-peace-robert-edging-1925-2013
/
ROBERTA EDGING
" I appreciate the almost 43 years I spent with a gentleman, Eddy Arnold."
(Roberta was Eddy's secretary/assistant for more than forty years)
---
COMMENTS FROM EDDY ARNOLD FANS AND ASSOCIATES
---
Hello Fans . If you are unable to play any audio or video file, or have difficulty with any links, please inform me via the Guest Book so I can repair the problem promptly. Visit the site frequently as I will continue adding new items for your enjoyment. Bill Comer, Webmaster
The only way to have a friend is to be one. Ralph Waldo Emerson
---
The following article was written in 2002 by the webmaster, Bill Comer.
CLICK HERE
Send me your comments concerning the Kennedy Center Honors failure to honor Eddy via the Guest Book,
Pro & Con comments are welcome and will be posted at your request.
FANS: A MESSAGE FROM ED READ, A CLOSE FRIEND OF THE LATE EDDY ARNOLD
CLICK HERE
This e-mail was posted on this site in 2002, but misplaced when I rearranged the website in April 2010. I am delighted that I rediscovered it. Bill Comer, Webmaster
A clear conscience is usually the sign of a bad memory. Author Unknowm
Fans: If you remember a joke Eddy told at one of his concerts, please place it in the Guest Book and I will post it here. Bill Comer
---
"If Eddy Arnold never sang a song he would still be a hero of mind. His infectious laugh and great personality made him
special
beyond measure." Bill Shoop
Welcome Eddy Arnold Fans From The Webmaster, Bill Comer!
DEMISE OF EDDY AND SALLY ARNOLD
CLICK HERE
Appreciation makes people feel more important than almost anything you can give them. Author unknown
---
.
Please Sign Our Eddy Arnold Guestbook
To add your entry to the Guestbook, click on the above link and then "POST" your comments.
After You Sign Or View the Guestbook, Press the "Back" Button On Your Browser To Return To This Page.
---
Quotes From EddyArnold Fans
CLICK HERE
---
A NEW HONOR FOR EDDY ARNOLD
CLICK HERE
---
PHOTOGRAPHS OF EDDY
CLICK HERE
---
Who angers you, controls you.
Author unknown
---
Eddy Arnold Honored by Belmont University in Nashville
CLICK HERE
---
PARADE, THE SUNDAY NEWSPAPER MAGAZINE, SLIGHTS EDDY ARNOLD
CLICK HERE
---
PHOTO OF BILL COMER AND HIS "BOSS" GLENDA COMER
CLICK HERE
---
MISSION STATEMENT
CLICK HERE
---

Eddy Arnold Becomes Dr. Richard (Eddy) Arnold
CLICK HERE ,
---
Don't worry about today because when tomorrow comes, today will be yesterday. Author unknown
---
Remarks Eddy Made At Chet Atkins' Funeral
CLICK HERE
---
Fans, Please Tell Us Why You Like Eddy
CLICK HERE
---
PHOTOGRAPH OF EDDY ARNOLD IN CONCERT
CLICK HERE