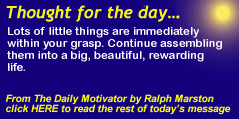 The easiest way to grow as a person is to surround yourself with people smarter than you.
A person of words and not deeds is like a garden full of weeds.
A soft voice may be awfully persuasive.
A truly rich life contains love and art in abundance.
Advice, when most needed, is least heeded.
All the troubles you have will pass away very quickly.
Beauty in its various forms appeals to you.
Because you demand more from yourself, others respect you deeply.
Competence like yours is underrated.
Congratulations! You are on your way.
Dedicate yourself with a calm mind to the task at hand.
Disbelief destroys the magic.
Distance yourself from the vain.
Do not be intimidated by the eloquence of others.
Do not make extra work for yourself.
Don't confuse recklessness with confidence.
Emulate what you admire in your parents.
Emulate what you respect in your friends.
Every flower blooms in its own sweet time.
Get your mind set...confidence will lead you on.
Good news will come to you by mail.
Good to begin well, better to end well.
He who knows he has enough is rich.
How you look depends on where you go.
If a true sense of value is to be yours it must come through service.
If certainty were truth, we would never be wrong.
It is honorable to stand up for what is right, however unpopular it seems.
It is worth reviewing some old lessons.
It takes courage to admit fault.
Meditation with an old enemy is advised.
Nature, time and patience are the three great physicians.
New ideas could be profitable.
Now is a good time to buy stock.
Protective measures will prevent costly disasters.
Savor your freedom -- it is precious.
Say hello to others. You will have a happier day.
Self-knowledge is a life long process.
Small confidences mark the onset of a friendship.
Take the high road.
The strong person understands how to withstand substantial loss.
The truly generous share, even with the undeserving.
Those who care will make the effort.
Use your eloquence where it will do the most good.
"Welcome" is a powerful word.
You are a person of another time.
You are a talented storyteller.
You are in good hands this evening.
You are never selfish with your advice or your help.
You are solid and dependable.
You are very expressive and positive in words, act and feeling.
You have a shrewd knack for spotting insincerity.
You have exceeded what was expected.
You have the power to write your own fortune.
You love chinese food.
You make people realize that there exist other beauties in the world.
You never hesitate to tackle the most difficult problems.
You will always be surrounded by true friends.
You will be successful in your work.
You will be unusually successful in business.
You will have gold pieces by the bushel.
You will inherit a large sum of money.
Your abilities are unparalleled.
Your ability is appreciated.
Your dificulties will strengthen you.
Your dreams are worth your best efforts to achieve them.
Your first love has never forgotten you.
Your home is the center of great love.
Your leadership qualities will be tested and proven.
Your life will get more and more exciting.
Your love of music will be an important part of your life.
Your mind is your greatest asset.
Your quick wits will bet you out of a tough situation