My new CD "Larry McKenna From All Sides" is here! with "One Falling Tree," voted #2 Favorite New Jazz Release of 2013 by listeners of WRTI 90.1 FM!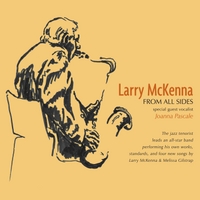 TO BUY:
My new CD is available:
* With listening samples at CDBaby.com (physical CD and mp3s) by clicking on the CD cover image above,
*
From
Amazon
or
iTunes
(mp3s only), and
* Physical CD direct from me (to best help defray costs) at gigs or by mail, autographed on request ($15 + 2.50 shipping, check/Paypal). Please email me at ljmckenna@comcast.net. I encourage you to buy the physical CD as the packaging is so special – a very attractive 8-panel digipak including my detailed liner notes plus lyrics, original drawings and numerous photographs by artist / lyricist Melissa Gilstrap. Thanks!

Please scroll down for more about my CD.
"Larry McKenna From All Sides" is so named as the CD features not only my tenor saxophone work but also my arrangements and original instrumental and vocal compositions. In addition to 4 jazz standards, the CD showcases 8 of my original tunes, including new 4 songs I wrote with lyricist Melissa Gilstrap that are beautifully debuted by vocalist Joanna Pascale with our terrific band.
I'm thrilled that one of these McKenna / Gilstrap songs, "One Falling Tree," has been voted NUMBER TWO FAVORITE NEW JAZZ RELEASE OF 2013 by listeners of WRTI, 90.1 FM / wrti.org (broadasting in PA, NJ and DE) in the station's 2013 Top 100 list! The song also was voted by listeners into the weekly WRTI Jazz Hot 11 Countdown for 18 straight weeks, including 4 weeks at #1! Thank you for this honor, to all who voted! You can hear a clip here: http://soundcloud.com/larry-mckenna/sample-one-falling-tree-for/s-bx3ig.


What a band on my CD! I had a great time writing arrangements for different configurations from quartet to octet for these superb artists: George Rabbai (trumpet, flugelhorn), Joe McDonough (trombone), Tom Lawton (piano), Joshua Richman (piano), Kevin MacConnell (bass), Lee Smith (bass), Pete Smyser (guitars), Dan Monaghan (drums) and Joanna Pascale on vocals.
I've been getting rave reviews of my new CD's striking packaging: an 8-panel digipak including my own detailed liner notes plus printed lyrics, original drawings and numerous photographs by artist/lyricist Melissa Gilstrap.
I'm honored that my CD is supported in part by a Subito Grant from the American Composers Forum, Philadelphia Chapter.
I really pulled out all the stops with this project, and I think you'll enjoy the entire thing, music and more! ~ Larry McKenna
P.S. Here's our first review - a GREAT one! (For more reviews, go to the "Music Critics" tab):
"LARRY McKENNA FROM ALL SIDES" (2013)


Larry McKenna's tenor saxophone playing is addictive. It's like driving a Maserati: you're probably going to want to take it on the road again and again, because it is so elegant and finely engineered. A product of the late swing band era (he did a turn with Woody Herman Woody Herman band/orchestra), McKenna has kept rigorously on a course that started with Lester Young and culminated with Stan Getz. He has honed that genre to such perfection that today he provides the gold standard.


In this album, McKenna takes his Maserati for a spin that involves a degree of risk. He gathers together eight sidemen and a vocalist (Joanna Pascale), each of whom is a rugged individualist, and strives to make them work together seamlessly. In addition, he offers eight original tunes, four with lyrics by his recent sidekick Melissa Gilstrap, thus taking a leap into composing and arranging, a talent which he has kept secreted in a vault he has previously opened only to a few admiring associates. (He reportedly has sequestered a huge cache of original charts.) McKenna succeeds in bringing all this diverse talent together into a coherent whole, mainly because his own playing is the magnificent jewel that shines through it all, and also because most of the other players work with him frequently and have enormous respect for him. So they adjust.


Thanks to the sound engineer, Glenn Ferracone, himself a seasoned drummer, the recording has the presence and spontaneity of a live performance reminiscent of Rudy Van Gelder's iconic studio recordings of greats like John Coltrane and other pioneers of the hard bop era. The standards, "Everything I've Got," "That Old Black Magic," "September Song," and "I'll Never Be the Same" swing brightly and include marvelous improvisations by virtually all the players. The piquant lyrics of Melissa Gilstrap are set off nicely by McKenna's understated melodic turns. And McKenna's instrumental originals, "Samba de Else," and "You're It," are beautifully arranged to include subtle interplays among the diverse musicians.


Both the horns and the rhythm section are virtuosos at the top of their game. Special notice should be given to George Rabbai, the great bebop trumpeter, who plays with his usual quickness, sensitivity and panache, and Joe McDonough, one of few trombonists capable of the lush, smooth sound of Urbie Green who nevertheless achieves the clever phraseology of Frank Rosolino. The combined styles of McKenna, Rabbai, and McDonough, along with the four McKenna/Gilstrap songs, provide the unique flavorings that make this album stand out in the crowd.


- Victor L. Schermer, AllAboutJazz.com, Oct. 9, 2013